Taking the Process home
As of writing this, Melbourne is still in a "Stage 4" lockdown, which means most non-essential businesses including film labs are closed. I generally only tend to use the services of labs for colour film. However, recently receiving the Essential Film Holder for review over on the YouTube channel came at a convenient time! I had a roll of Kodak Colorplus sitting around for the past weeks containing images for a project I am working on. After having tested the Essential Film holder extensively and making the review, I was thoroughly impressed and decided to mix up a fresh batch of C41 chemistry to develop some colour film and scan it myself.
The video review on the channel probably has all the info you need from a technical review standpoint. A quick summary would be that it works great and I think it's the best option currently on the market for the money! Check it it out below. It's a bit long at almost 30 minutes, but there is an index allowing you to skip to the sections you're interested in.


Uncut Rolls
The main reasons I always shied away from scanning much of my own colour film was that I found it laborious in both the process of loading into whatever film holders (strip by strip), and converting negatives to positive digital images with good colour. However, on the conversion end of things, a great little piece of software called Negative Lab Pro has been changing the game, making that part of the process much easier, and capable of producing fantastic results. I also did a video review for NLP on the Youtube channel which I'll embed at the bottom of this article.

As for the more physical bottleneck, loading cut strips into most holders I've used has been time consuming and often finicky. Whether that's been in my flatbed scanner, or with my DLSR+macro lens setup, it could take close to an hour to get through a roll of film. Essential Film holder is great in that I can pass entire uncut rolls through, frame by frame, as I digitize them. Not only that, but it also holds the film flat allowing for optimal results.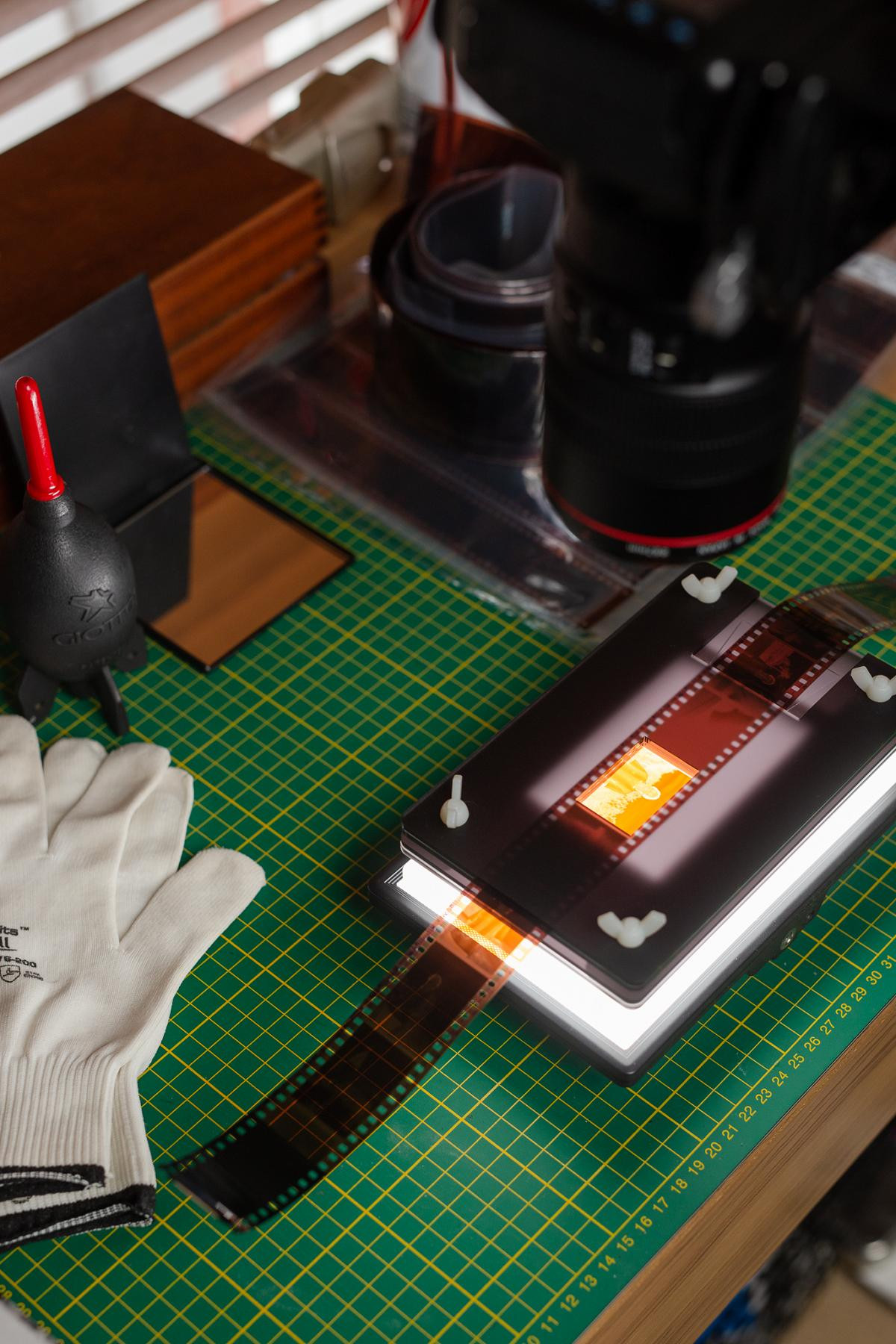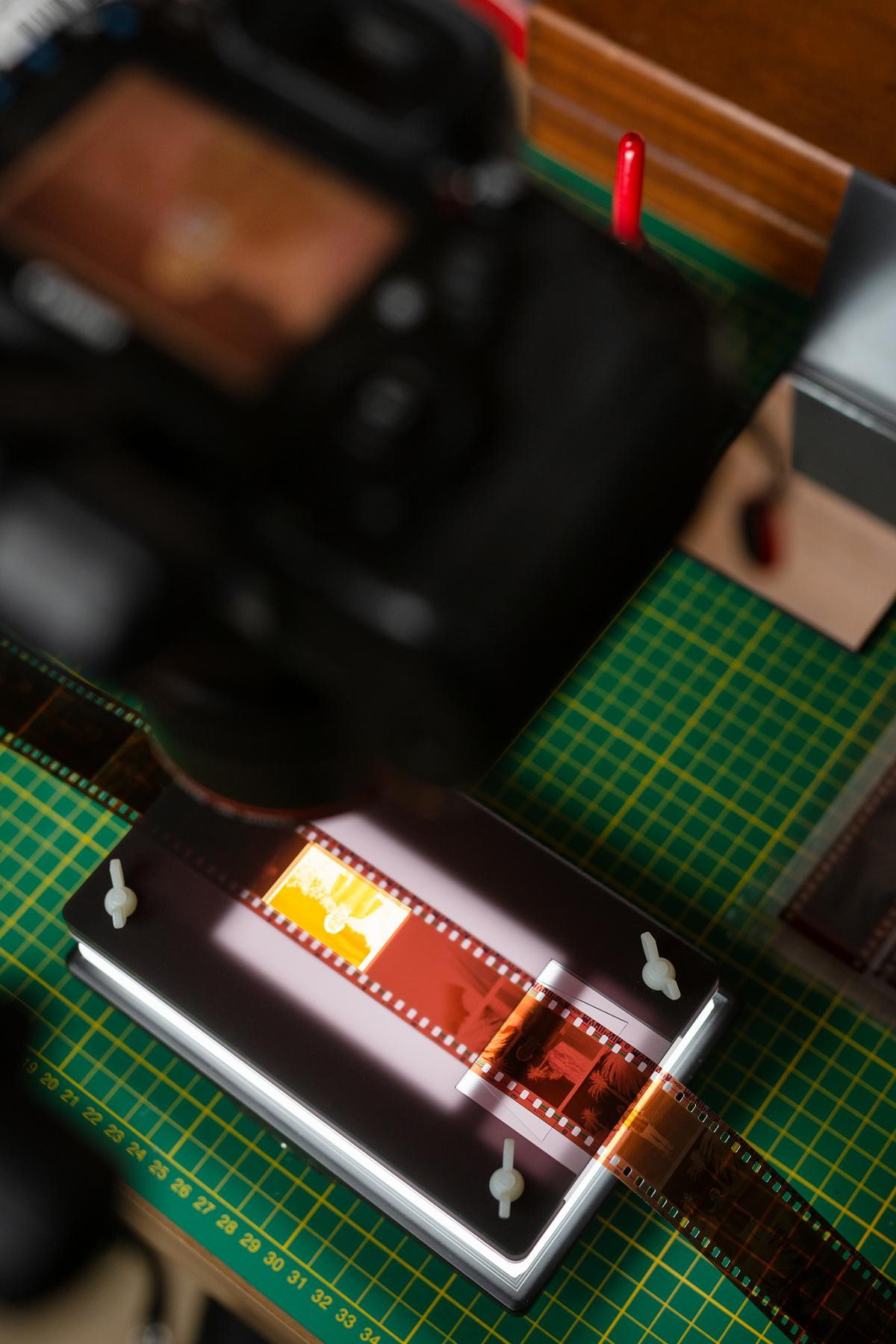 It's all in the details
So, whether I want to digitize uncut rolls, or even strips of film from now on, I'll be using the Essential Film Holder. It comes with masks for 35mm and 120 film. My sample pack also included the masks for X-Pan format, and mounted slides, in case I ever need to digitize those formats. Another nice option for masks includes the variants that allow you to scan the film with the borders showing... something I might look at reviewing later down the track.
The 35mm mask can conveniently mount above the 120 mask, without needing to remove that first. The diffusion panel on the unit is of high-quality, and allows you to use those video lights or tablet screens that would otherwise show pesky "dots" of light, resulting in uneven lighting and poor conversions. 
Everything is made from super smooth acrylic, laser cut to precision. That means as much protection from scratching as possible, for both your negatives, and your light panel/tablet. The film is guided through with a thinner precision layer sandwiched between the main parts of the each mask, allowing the film to run through straight, flat, and easily.  


Plastic-Fantastic
For the price of £90 (for the 35mm+120 kit) shipped worldwide, the Essential film holder definitely does the job and lives up to its name. It may not have the bells and whistles of much more expensive, all-metal, mechanised options... but it fits the bill, and it's versatile. 

If you're still in the research phase of getting into digital camera scanning of your film, I'll link a couple of videos below on an introduction to the process, and to my Negative Lab Pro first-look, which you might find helpful. There is a bit of a learning curve to all this stuff, and I remember struggling with all sorts of obstacles before all these great tools became available to us over the last few years.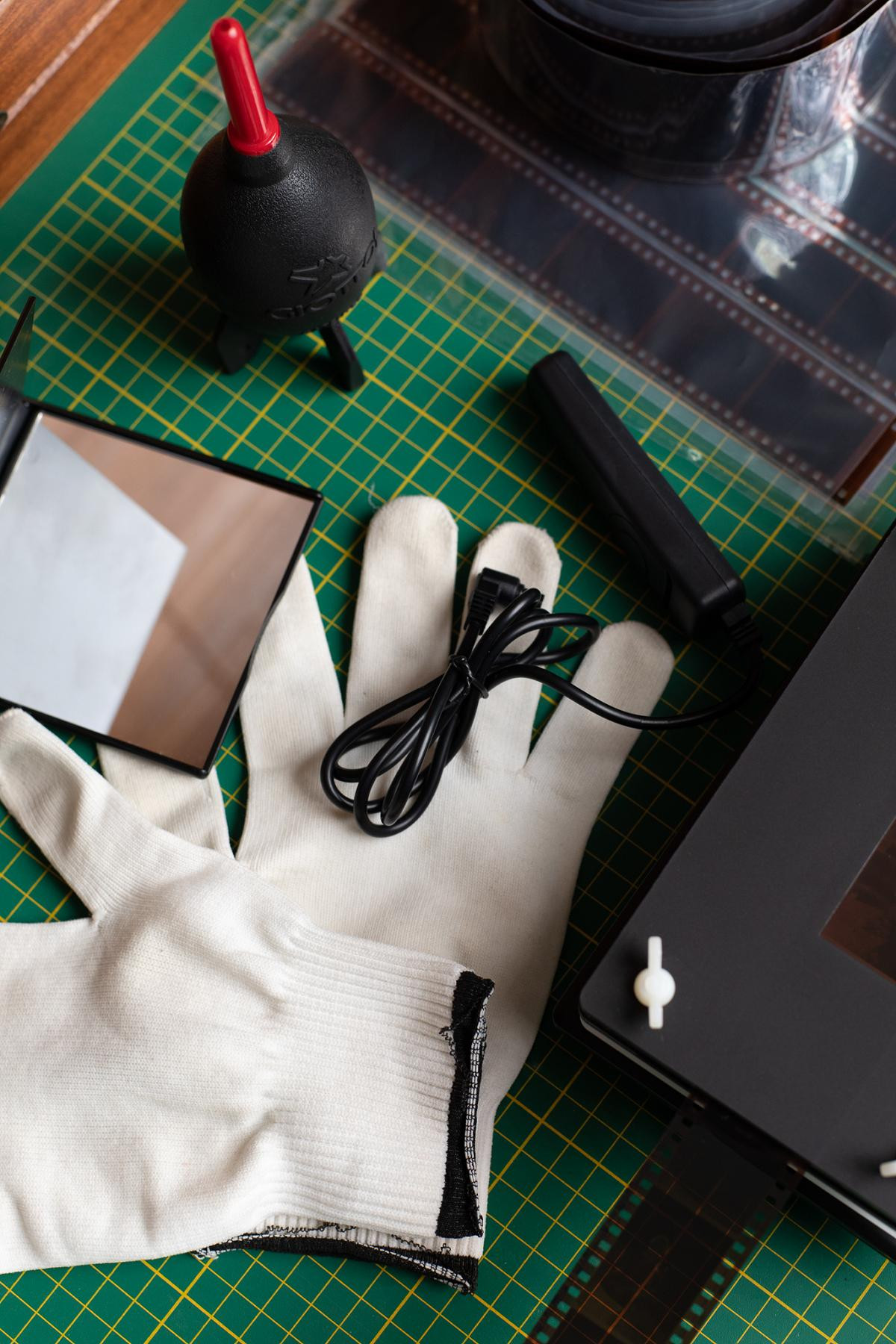 Some other things I'd recommend are a rocket blower, a cable release, a mirror for lining up your camera, and some gloves. If you decide to get the Essential Film Holder, (the designer) Andrew's guide on how to use it will be provided. It explains the how-to, tips and techniques better than I ever could! 

If you're curious about the video-light panel that I use, it's the Viltrox L116T. I'll link it, as well as some other items below using Amazon Affiliate links. Purchasing anything through the following links compensates me with a small percentage, but doesn't cost you any more. This would be a much-appreciated way to support my blog and YouTube channel!
My link to the Essential Film Holder

Viltrox L116T with Battery
Raleno Rechargeable slim video light
Get a free trial of Negative Lab Pro